Description
Ascendant Challenge
Weekly Bounty Completion
One of the secrets of the Dreaming City are Ascendant Challenges.   In order to gain access to the Ascendant Challenge you are required to consume a Tincture of Queensfoil.   Do you have a quest in your pursuits to complete the Ascendant Challenge or defeat 4 swordbearing Knights?  Guardian.Services is available to complete these activities for you!
Looking for Retold Tale or a more inclusive Dreaming City activity bundle?
The upcoming season will be a new meta change. Acquire the STRONGEST PVP shotgun in the game or complete your COLLECTIONS here.
Rewards
The Ascendant Challenge quest step rewards Powerful Gear and several Dark Fragments.
Requirements
Must have the quest step in your inventory.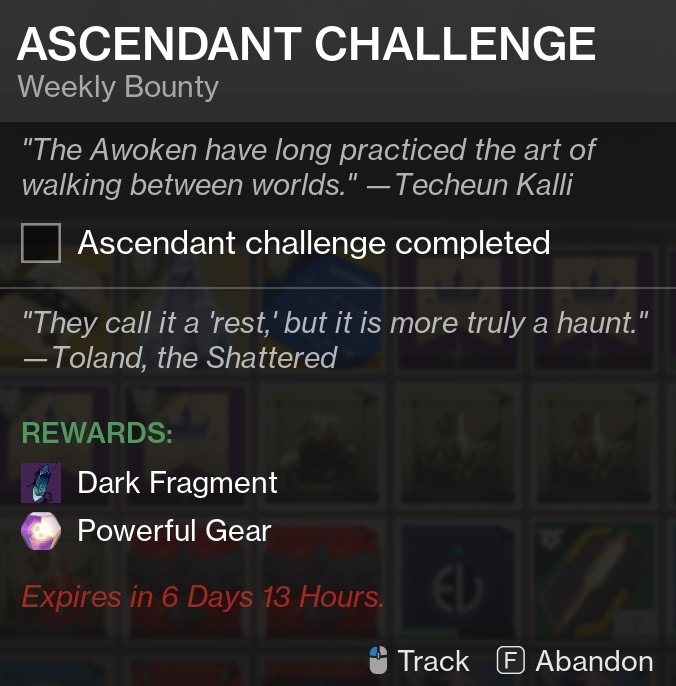 Rewards
The Purification Ritual quest step rewards a Transcendant Blessing, several Dark Fragments, Baryon Bough, and Legendary Gear.
Requirements
Must have the quest step in your inventory.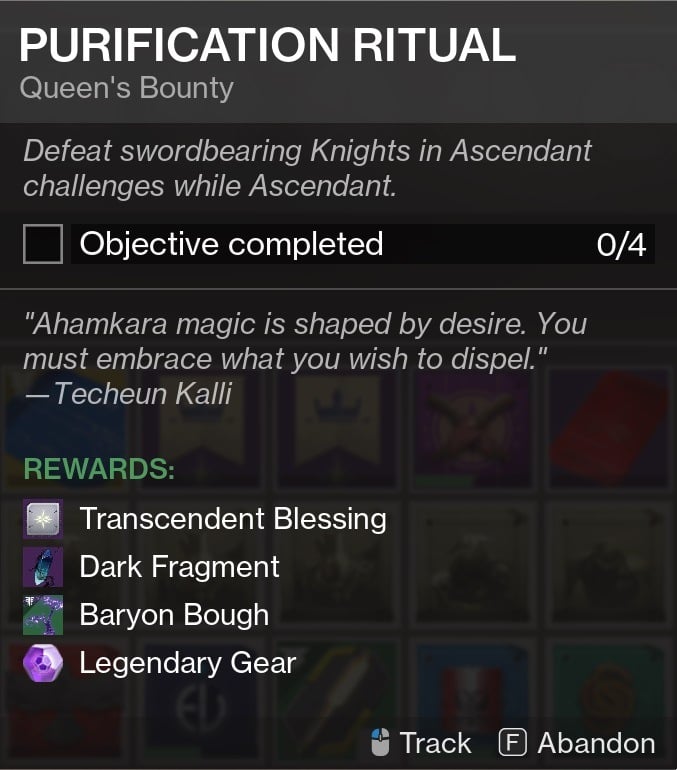 Corrupted Eggs
There is multiple Corrupted Eggs hidden within every Ascendant Challenge. These are all needed to unlock the Triumph "Corrupted Omelette" which is part of the The Dreaming City Seal.
(Requirement: Must have the Wish-Ender Exotic Bow)

Lore
There is Ahamkara Bones hidden within each Ascendant Challenge. These will unlock the specific Stories needed for the Triumph "Marasenna" which is part of the Lore Seal.

Frequently Asked Questions
Click the boxes below if you have any of these questions.  If there is something you don't see, feel free to use our livechat or use our contact form.
Purification Ritual: Swordbearing Knights
Defeat swordbearing Knights in Ascendant challenges while Ascendant.
It's not always the swordbearing knights are available while doing the Ascendant Challenge since the challenge is different every reset.
If you order with the option of us killing the swordbearing knights and they are not available but would like the Ascendant Challenge to be completed, send us a message on text,mail or come to livechat.
Do I need the DLC?
You must have completed the Forsaken DLC for this service.  We have the DLC licenses on our platforms if you gameshare with a friend for yours.
If I order an account recovery how will I know when you are signing on?
We always contact the customer via text/email before signing onto your account, and then again once finished.  This is why we strongly advise including your phone number before purchasing so that we can communicate with you easier.
Do I require any specific weapons or armor?
No, we will use DIM or other inventory management to setup the character accordingly.
If I order an account recovery how do I know you won't mess with my account?