Guardian.Services is an organization of professional Destiny players who have been helping fellow Guardians since 2014.
Many players do not have the time, roster, or capability to complete the various endgame activities in Destiny.   That's where we specialize.   What we offer is a hassle-free solution for PvP and PvE activities no matter what your limitations may be.
Over the years, our team has completed over 40,000 orders and has built up a very strong reputation.
Some of the main reasons why players hire our team are:
A busy work schedule

The difficulty of the activity or being underleveled

You want to have everything in the game but don't have enough time

A significant other that disapproves of the amount of time that you spend playing video games

You are going on a vacation but don't want to miss out on time-gated rewards
Whether you just need good players to join up with or want us to sign on and complete activities for you, we are here to help!
Visit this page to view many of our Frequently Asked Questions.
Our website features a completely customized shopping experience tailored to Destiny players.
Our 24/7 support staff consists entirely of professional Destiny players who can answer all related questions

All services feature a custom character API lookup so that you can specify exactly what character you want worked on

Our workforce follows strict rules and procedures and has an unbeaten track record of over 40,000 orders and 5,000 reviews

Our website sends out text and email notifications every step of the way which you can respond to if needed

We use a custom DIM that takes a screenshot of your inventory before signing into your profile on the platform to ensure that there are no discrepancies

Our completion emails include actual ingame data showing the new items that we earned for you during the session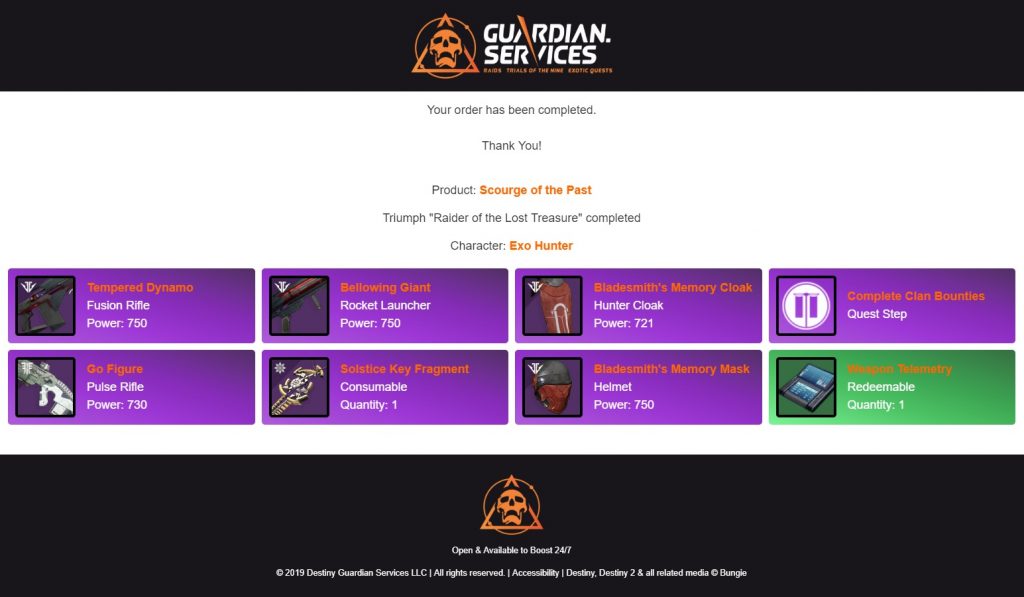 Destiny Guardian Services LLC is an American-based, tax paying business that consists of over 200 professional Destiny players from around the world.
We are working around the clock to ensure that all clients are satisfied with their service.
Below you will see a map of active GS workers.