Description
Nightfall
Sunrise Bounty Included
Need assistance completing the Weekly Nightfall Strike? Our Guardian.Services team can run this for you in no time!
Nightfall rewards high level weapons and armor that can be up to 4 levels above your max light level.  We will make sure that you are at your maximum light level so that you get the best possible gear.
The Nightfall can also drop an Emote Kit, Sparrow Horn Kit, and a large amount of Strange Coins or Three of Coins.
New: The Sunrise bounty from Zavala is included! This bounty is currently the only way to possibly get a Year 3 Icebreaker.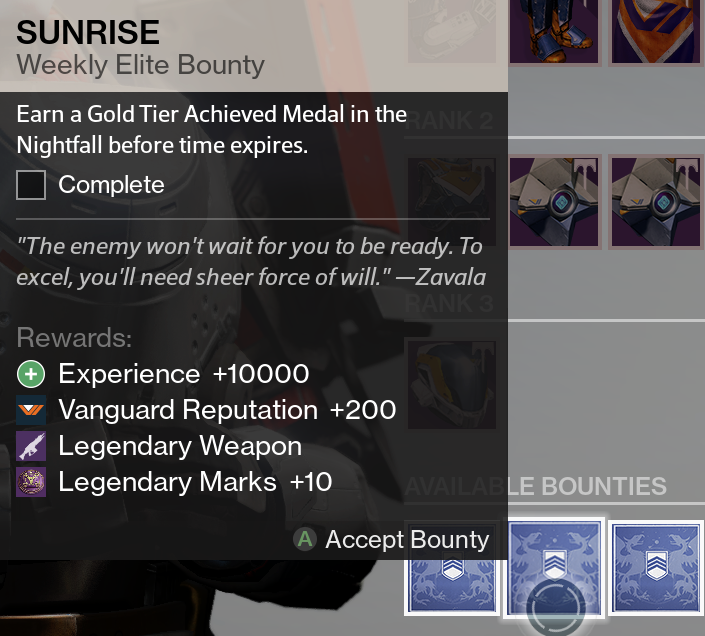 Required light level is 340.  If you are under the required light level please contact us first, we may still be able to work on your account.
This service can be completed by playing with our team (Carry) or by having us sign onto your profile (Account recovery).  Please fill in your login information at checkout if you are having an account recovery so that we can work on your account. We will try contacting you by phone, email or directly to your PSN or Gamertag 15 minutes before we sign onto your profile.
If you have any questions or concerns about this product please use our contact form or contact our live chat.
Frequently Asked Questions
Click the boxes below if you have any of these questions.  If there is something you don't see, feel free to use our livechat or use our contact form.
How long will it take?
Most of our services are completed within 24 hours.
If I order an account recovery how will I know when you are signing on?
We always contact the customer via text/email before signing onto your account, and then again once finished.  This is why we strongly advise including your phone number before purchasing so that we can communicate with you easier.
Do I require any specific weapons or armor?
No, we will use an item manager to view what is available to use.
If I order an account recovery how do I know you won't mess with my account?