Description
Malfeasance
Exotic Weapon Questline

Malfeasance is a Exotic / Kinetic / Hand Cannon that comes with two special perks, Explosive Shadow & Taken Predator.

Shoot tainted slugs that burrow into the enemy. Stacking enough slugs causes them all to explode.

Bonus damage against Taken enemies and Gambit invaders.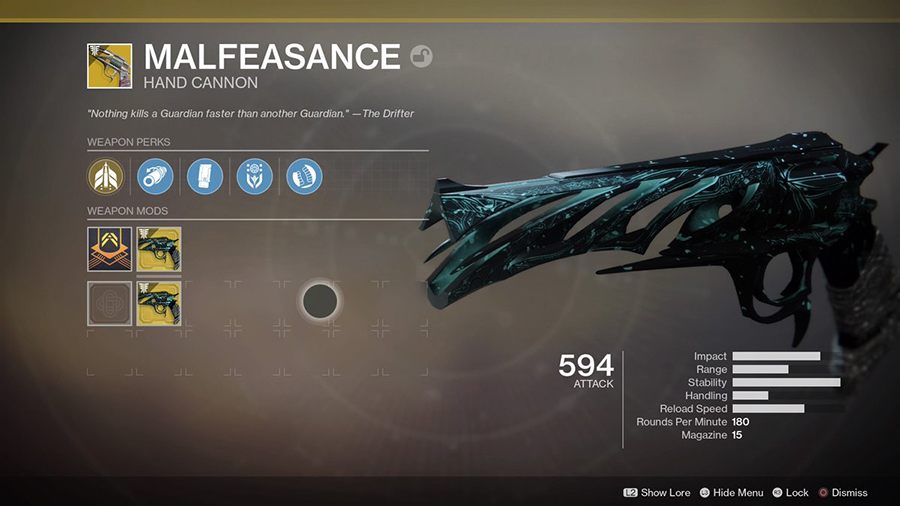 Want to have the Malfeasance for your own account?   Our Guardian.Services team is available to do all of the work for you!
The Malfeasance Questline consists of the following steps:
The Seething Heart – Acquired by defeating the Ascendant Primeval in Gambit.
(NOTE: Must have acquired this step, we do not provide this service.)
City of Secrets – Defeat 25 Taken Bosses or minibosses in the Dreaming City.
The Corrupted – Complete the mission variant of The Corrupted Strike.
(REQUIREMENT: Must be 540+ Power Level.)
Business as Usual – Win 10 Gambit matches and deposit 500 Motes. Dropped Motes subtract x2 score.
Lights Out – As an invader, defeat 25 opposing Guardians in Gambit. Have an ally invader defeat four opposing Guardians in a single invasion three times, OR defeat four opposing Guardians as an invader.
Requirements
Must have the Forsaken DLC.
Must have acquired The Seething Heart.
Order Options
This service is done by account recovery only. Our team will sign onto your profile and complete the service.
Make sure you fill out our checkout form with the necessary details.   We will send you a text and email before signing on.
Frequently Asked Questions
Click the boxes below if you have any of these questions.  If there is something you don't see, feel free to use our livechat or use our contact form.
Will you get me The Seething Heart?
No. We do not provide The Seething Heart queststep as its a random grind.
Do I need the DLC?
You must have the Forsaken DLC for this service.  We have the DLC licenses on our platforms if you gameshare with a friend for yours.
If I order an account recovery how will I know when you are signing on?
We always contact the customer via text/email before signing onto your account, and then again once finished.  This is why we strongly advise including your phone number before purchasing so that we can communicate with you easier.
Do I require any specific weapons or armor?
No, we will use an item manager to view what is available to use.
If I order an account recovery how do I know you won't mess with my account?
If you have any questions or concerns about this service please use our contact form or contact our live chat.