Description
Whisper of the Worm
Exotic Weapon Questline
The Whisper of the Worm is an exotic sniper rifle reminiscent of Destiny 1's fabled Black Hammer obtainable through a hidden quest released as part of the Warmind campaign.
The Whisper exotic questline starts with the Taken Blight public event in the Lost Oasis on Io where players can kill one of 3 new Taken VIP's to spawn a portal anomaly.  This portal will teleport fireteams into the hidden story mission Whisper. If players complete the extensive mission in the under 20 minutes required they are rewarded with the Whisper of the Worm sniper rifle.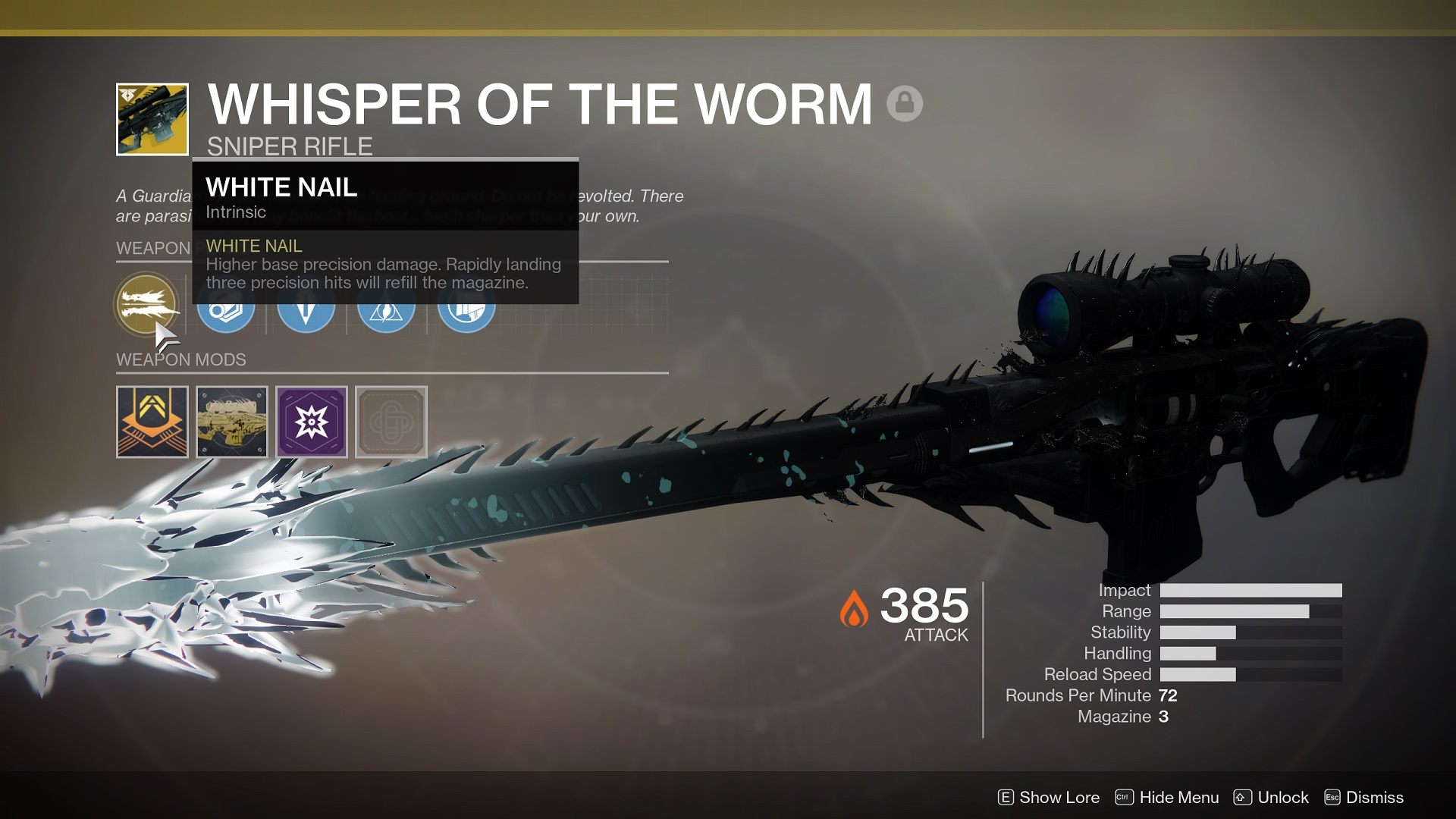 Once Whisper has been completed successfully players will to launch a new Heroic version of the story mission with an elemental singe which rotates eweekly. This Heroic version is filled with several secrets the first of which is the Whisper of the Worm masterwork catalyst which drops upon completion. This catalyst can then be progressed by obtaining Blighted Essence from hidden chests in the Heroic version of Whisper and completing the mission. At this time progress on the masterwork catalyst is timegated across 3 weeks. Completion of the Whisper of the Worm masterwork catalyst grant the weapon the perk Box Breathing which increases bonus range and precision damage after aiming for a short period of time.
The second major secret is if players open all 5 hidden chests during a run of the Heroic Whisper mission an oracle puzzle will which which rewards more Blighted Essence and an Enigmatic Blueprint. This blueprint will an exotic ship after successful completion of the 3 different elemental singe versions of Heroic Whisper. Since this singe rotates every week acquiring this exotic ship will take at least 3 weeks.
Want to have either of these exotics for your own account?   Our Guardian.Services team is available to do all of the work for you!
Normal Completion: 
Whisper of the Worm – Exotic Sniper Rifle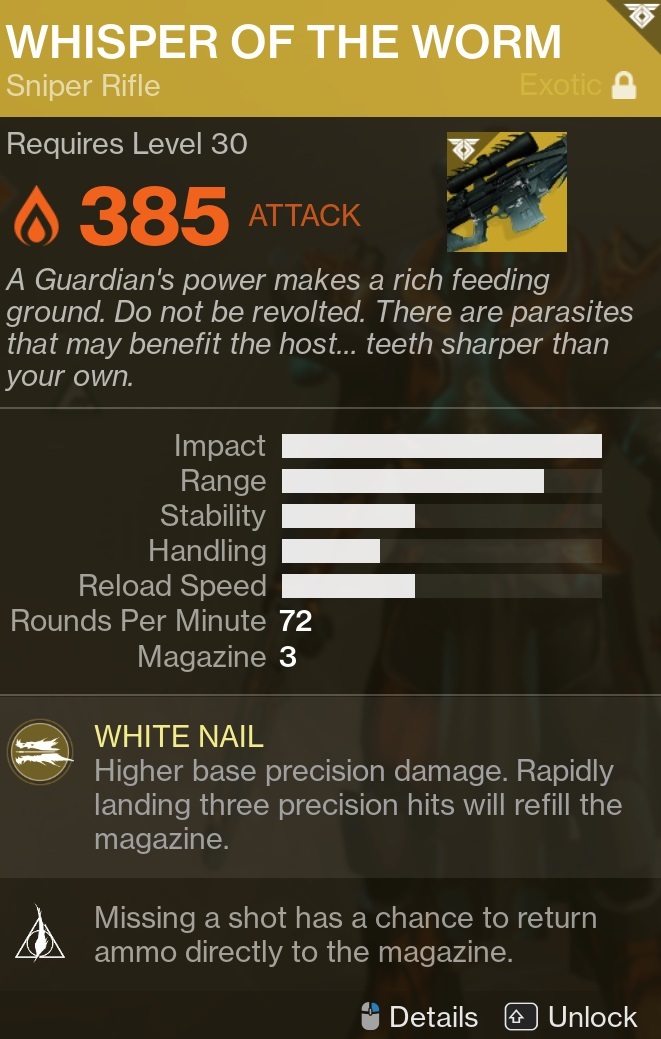 Heroic Completion
NOTE: Must have completed the Normal encounter on the character in order to have access to the heroic version.
Whisper of the Worm Catalyst – Aiming this weapon without firing for a brief moment grants bonus range and precision damage while it remains zoomed

The Catalyst requires Blighted Essence to fully upgrade.   It maxes out at 36% per week if you complete a Heroic mission and open all of the chests after you equip the Catalyst.
Oracle Completion
Enigmatic Blueprint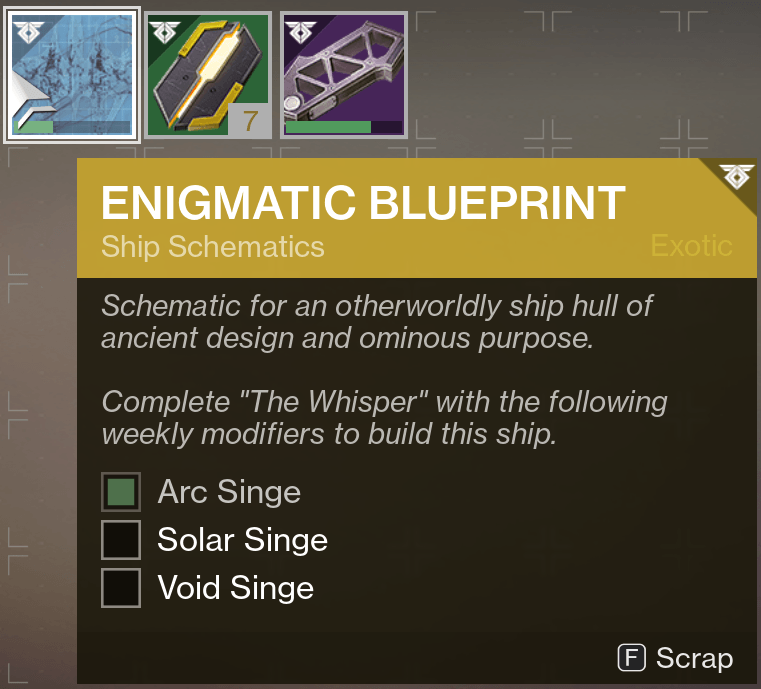 Note: You will be required to complete the Whisper mission on Heroic when the two other modifiers are active.
This will also add 36% towards the Whisper of the Worm Catalyst if you have completed Heroic already and have the Catalyst equipped on your Whisper of the Worm.   If you do not have the Catalyst you will not get 36%.
This service is done by account recovery only. Please fill in your login information at checkout so that we can work on your account. We will try contacting you directly to your PSN/Gamertag and Email 15 minutes before we sign onto your profile.
If you have any questions or concerns about this service please use our contact form or contact our live chat.
We only speak English, so please understand that while we can carry players that speak other languages we won't be able to communicate as well if you don't speak or understand English.
Frequently Asked Questions
Click the boxes below if you have any of these questions.  If there is something you don't see, feel free to use our livechat or use our contact form.
Do I need the DLC?
You must have completed the Warmind DLC for this service.  We have the DLC licenses on our platforms if you gameshare with a friend for yours.
How long does this service take to complete?
This service is almost always completed within 24 hrs of purchase and requires roughly 1-2 hrs.
If I order an account recovery how will I know when you are signing on?
We always contact the customer via text/email before signing onto your account, and then again once finished.  This is why we strongly advise including your phone number before purchasing so that we can communicate with you easier.
Do I require any specific weapons or armor?
No, we will use an item manager to view what is available to use.
If I order an account recovery how do I know you won't mess with my account?
If you have any questions or concerns about this service please use our contact form or contact our live chat.