Description
CROSS SAVE
As Trials of Osiris is free for all players we recommend you to activate cross save on as many platforms as possible and provide information for these platforms on checkout for the fastest possible order completion. If you have already placed an order you can update the order with the cross save information by going to Account -> Orders -> Click the specific order.
Trials of Osiris – Full Armor Set
Want to collect the amazing looking trials armor set for your character? We got you covered. With this service we will collect the entire armor set plus all the other great rewards you get from going flawless.
Guardian.Services is proud to be offering the same professional Trials service with Destiny 2!
Our team consists of some of the highest ranked tournament players to help you go flawless on PS, Xbox and PC.   With thousands of verified customer reviews, we are the BEST source to take you flawless!
Trials of Osiris offers unique end-game weapons and armor.   This activity is active from Friday until Monday reset.
If an account recovery is ordered we will leave the flawless rewards for you to collect unless specifically told to or it is close to the deadline.
This is a

GUARANTEED

Flawless
What Passage will you use?
We will use the Passage of Mercy when completing our Flawless runs. Please have the Passage already purchased or 25.000 glimmer available for us to buy the passage.
Will you complete the Bounties?
We will pick up all the available Daily and Weekly bounties but will not guarantee they will get completed.
Reward System
***You may go flawless and claim rewards more than once per week per character but will only receive the full rewards for your first Flawless on each character. Any Flawless passage after that will reward materials and a chance of more trials weapon/armor from the Lighthouse Chest***
Flawless Rewards
3 wins – Powerful Armor or Weapon Reward
5 wins – Powerful Armor or Weapon Reward
7 wins – Powerful Armor or Weapon Reward
7 wins (Flawless 7-0) – Pinnacle Armor or Adept Weapon, Adept Mod and Emblem Reward
What rewards will i get?
You will get the full Armor Set plus all the extra armor pieces and weapons that drops each week from completing the flawless run.
Pyrrhic Ascent Helm, Cover or Hood

Pyrrhic Ascent Gauntlets, Grips or Gloves

Pyrrhic Ascent Chest Armor

Pyrrhic Ascent Greaves, Boots or Legs

Pyrrhic Ascent Mark, Cloak and Bond

The Ghost Shell and Sparrow is a random drop from any passage. You can acquire these rewards even if you already have been flawless the same weekend.
Lantern Shell
Exotic / Ghost Shell
Resurrection's Guide
Exotic / Vehicle
Account Recovery:
1270+ Base Power Level.

25.000 Glimmer to purchase the Passage of Mercy.

When we contact you to tell you that we are about to sign on for your flawless

YOU MUST STAY OFFLINE 

while we are working.

 

If you sign on, we get signed out and likely will have to restart your flawless card.   We will contact you as soon as your flawless card is completed so that you know when you can sign back on.
This is our fastest, cheapest, and most popular option.  One of our partners will sign onto your profile and complete the activity for you.  Once we are finished you then sign on and claim all of the flawless rewards.
If you are ordering an account recovery please fill in your login information at checkout so that we can work on your account. We will try contacting you directly 15 minutes before we sign onto your profile by text and/or email so that there are no surprises when we sign on.
Play with our team:
1270+ Power Level.

Please listen to our Sherpa's instructions while they are working with you.   You must be participating with the team and work with them.
Play with our team of professional partners and go flawless with them.  Even if you are not good at PVP our partners can carry anyone stress-free. Remember, this is a GUARANTEED flawless.
If you are ordering a carry and do not go flawless on the first attempt we can continue trying, reschedule, or issue a refund.  Please make sure your schedule is flexible enough to work with a carry team throughout the weekend.   To check availability, please contact our livechat.   You can add a note on your order to specify your availability.
Twitch Streaming
If you would like to have your flawless run streamed, you can select the Twitch Steaming option on checkout and we will stream the run for a 10% fee.
We will contact you before logging in as usual and will also send you a link to the live stream.   If you are not available to watch the run while our partners do it we can send you a link to the video archive of your run.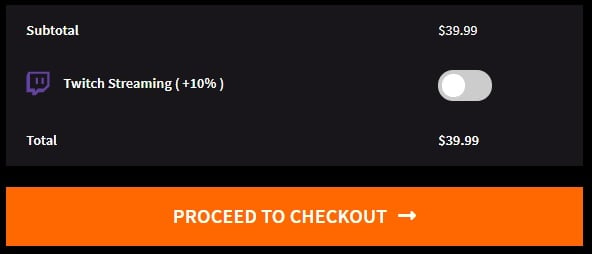 Friday: 1PM – 12AM EST
Saturday: 12PM – 12AM EST
Sunday: 12PM – 12AM EST
Monday: 12PM – 12AM EST
Tuesday:  Orders placed on Tuesday will likely be pushed to Friday.
We work as hard as possible to fit as many orders in as we can everyday.
Frequently Asked Questions
Click the boxes below if you have any of these questions.  If there is something you don't see, feel free to use our livechat or use our contact form.
What is my position in queue and how does it work?
If you ordered a Trials of Osiris Flawless service and are signed in you will be able to see your queue position on the bottom right of the screen. This is available only between Friday 1PM EST – Tuesday 1PM EST.
The queue system for Trials of Osiris is on a first come first served basis with the exception of Fast Pass orders that will be prioritized in front of none-Fast Pass orders.
Is your queue position getting higher? That could mean other Fast Pass orders has been placed in front, Fast Pass orders with cross save or that older orders that was on hold for any reason are placed back in the queue after getting resolved.
Will you complete the Trials Bounties?
We will pick up the Daily and Weekly bounties but will not guarantee that they will be completed during the Flawless Service.
What Passage will you use when completing the Flawless?
We will use the Passage of Mercy. If you have not already purchased this passage you will need to have 25.000 glimmer available so our agent can purchase the passage before being able to start.
When will my flawless card be completed?
All orders are completed on a first-come, first-served basis.   Trials launches every Friday at 1PM EST and at that point we are starting with the orders that were placed throughout the week.
Please keep in mind that we have a schedule for when our teams run flawless cards posted below.
We work on Trials cards from Friday to Monday 1PM-1PM EST.
Can I order for next week?
Yes, but please leave a note on checkout that states which dates the order is placed for.
Can I purchase the 3 character bundle if I only have 1 or 2 characters?
Yes, but please note on checkout which characters are for which dates. You can only receive rewards one per week per character so if you place an order for 3 characters with only one character available we will complete 1 run each week for 3 weeks.
I ordered an account recovery. How will I know when you will be signing onto my account?
We always contact the customer via text/email before signing onto your account, and then again once finished.  This is why we strongly advise including your phone number before purchasing so that we can communicate with you easier.
Can you leave the rewards for me to collect?
We will always leave the flawless rewards available for you to collect UNLESS it is getting close to the end of the activity's availability for that week. You may also leave a note on the checkout form if you would like us to collect the flawless rewards for you.  Just let us know what rewards you would like for us to collect.
Do I need any specific weapons or armor?
No, we will use an item manager to view what is available to use.
Can I go flawless multiple times on the same character?
Yes.  But you will only get the full rewards the first time you go Flawless on each character every week. For any Flawless completion after the first one you will receive materials and a chance of trials weapon and armor from the Lighthouse Chest.
If I order an account recovery how do I know you won't mess with my account?
Are there any discounts?
We offer a small discount for selecting the option for all 3 of your characters. You can also get 10% off for leaving a review after we complete your flawless.   To leave a review, you MUST be registered on this website before you make the purchase.   Only registered customers who have ordered the service can leave a review.
After the review is placed you will be emailed a 10% off discount code.