Description
The Mountaintop
Weapon Questline
The Mountaintop is a new pinnacle weapon that was released with season 5. This Lightweight Grenade Launcher is acquired after completing a questline in Crucible given by Lord Shaxx and comes with a unique perk called "Micro-Missile". The Mountaintop`s projectile instantly detonates on the environment instead of bouncing like a traditional grenade launcher, unless you have Sticky Grenades selected. It is the only Lightweight Grenade Launcher with the Sticky Grenades perk option.

The Mountaintop is a Legendary / Kinetic / Grenade Launcher with Lightweight Frame and the special perk Micro-Missile.

Micro-Missile – This weapon fires in a straight line and has a massively increased projectile speed.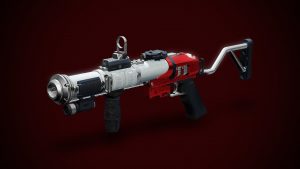 Want to have The Mountaintop for your own account? Our Guardian.Services team is available to do all of the work for you!
The Mountaintop Questline consists of the following steps:
To earn The Mountaintop you need to complete several steps. The quest is extensive and consists of the following steps:
Reach Glory rank "Brave" within a season.
Complete objectives in the Crucible. The objectives are as follows:
– In the Crucible, earn Grenade Launcher final blows.
(REQUIREMENT

: 

Must have an equippable Grenade Launcher.

)


– Rapidly defeat groups of two or more opponents.
(REQUIREMENT

: 

Must have an equippable Grenade Launcher.)
– Earn Calculated Trajectory medals.
(REQUIREMENT

: 

Must have an equippable Grenade Launcher.

)

Reach Glory rank "Fabled" within a season.
Requirements
Must have completed the base campaign.
Order Options
This service is done by account recovery only. Our team will sign onto your profile and complete the service.
Make sure you fill out our checkout form with the necessary details.   We will send you a text and email before signing on.
Frequently Asked Questions
Click the boxes below if you have any of these questions.  If there is something you don't see, feel free to use our livechat or use our contact form.
Will this get me the The Mountaintop?
Yes, through the full questline we will get you the The Mountaintop for you to have on your own account!
How long will it take?
Most of our services are completed within 24 hours.
Do I need the DLC?
You must have the Forsaken DLC for this service.  We have the DLC licenses on our platforms if you gameshare with a friend for yours.
If I order an account recovery how will I know when you are signing on?
We always contact the customer via text/email before signing onto your account, and then again once finished.  This is why we strongly advise including your phone number before purchasing so that we can communicate with you easier.
Do I require any specific weapons or armor?
Yes, you need to have an equippable Grenade Launcher available other than that we will use an item manager to view what is available to use.
If I order an account recovery how do I know you won't mess with my account?
If you have any questions or concerns about this service please use our contact form or contact our live chat.