Description
Obisidan Dreams
Emblem Unlock



To unlock this secret Black Armory emblem you first need to unlock all 4 parts of the Mysterious Box. Once you do this you will recieve a Mysterious Datapad that will start your journey.
The next step is to head over to the Niobe Labs and complete a series of puzzles involving the Forge weapons and where atleast one of the fireteam members are required to have the Izanagi's Burden exotic sniper rifle equipped.
Once you completed the puzzle and defeated the enemies you need to complete Volundr, Gofannon, Izanami and Bergusia Forges while wearing all Black Armory Gear.
Requirements
Note: This service has heavy armor & weapon requirements.  Please make sure you meet the requirements otherwise we will need to issue a refund.
Armor Requirements
**Must have the full black armory forge set for the selected character.**



You can now unlock missing Black Armory armor by getting Forge Polymers from Ada-1.
You can get Black Armory Schematics by dismantling Black Armory weapons.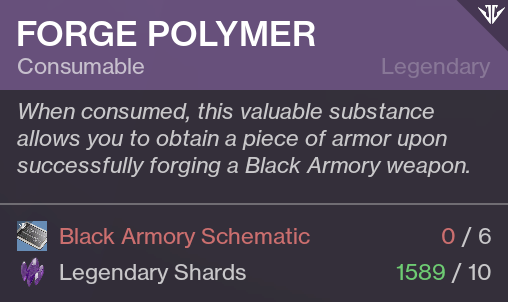 Weapon Requirements
Must have one weapon available for each slot. Kinetic, Energy & Power.
Kinetic
Must have one of the following:
The Spiteful Fang

Bad News XF4354

Blast Furnace

Baligant XU7743

Show of Force XF4865

Atalanta-D XG1992

Energy
Must have one of the following:
Galliard-42 XN75

The Ringing Nail

Kindled Orchid

Swift Ride XE8375

Tango-45 XK5094

Dead Man Walking XX7463

Tatara Gaze

Power
Must have one of the following:
Acantha-D XK8434

Hammerhead
Hoosegow XE5837

Stryker's Sure-Hand

Need us to farm Black Armory weapons for you?  We now offer completions for each forge!
Requirements
Must have completed the Mysterious Box and have the Mysterious Datapad
You must have a full set of Black Armory armor
Must have a forge weapon for each slot (Primary, Secondary, Heavy)
Order Options
Account Recovery – Our team will sign onto your profile and complete the service.
Make sure you fill out our checkout form with the necessary details.  We will send you a text and email before signing on.
Frequently Asked Questions
Click the boxes below if you have any of these questions.  If there is something you don't see, feel free to use our livechat or use our contact form.
Do I need the DLC or the Annual Pass?
You must have the Forsaken DLC and the Annual Pass for this service.  We have the DLC licenses on our platforms if you gameshare with a friend for yours.
What level do I need to be?
You need to be 600+ Power Level.
If I order an account recovery how will I know when you are signing on?
We always contact the customer via text/email before signing onto your account, and then again once finished.  This is why we strongly advise including your phone number before purchasing so that we can communicate with you easier.
Do I require any specific weapons or armor?
No, we will use an item manager to view what is available to use.
If I order an account recovery how do I know you won't mess with my account?