Description
If you purchase a Luna's Howl "Full Questline" you will also get the new pinnacle SMG, The Recluse!
Luna's Howl
Weapon Questline
Luna's Howl is a Hand Cannon that is acquired in the competitive playlist.
This weapon is obtained by completing a questline in the competitive playlist.  Luna's Howl deals SOLAR damage and is equippable in the energy weapon slot.  If you need assistance completing this weapon quest the Guardian.Services team is here to help!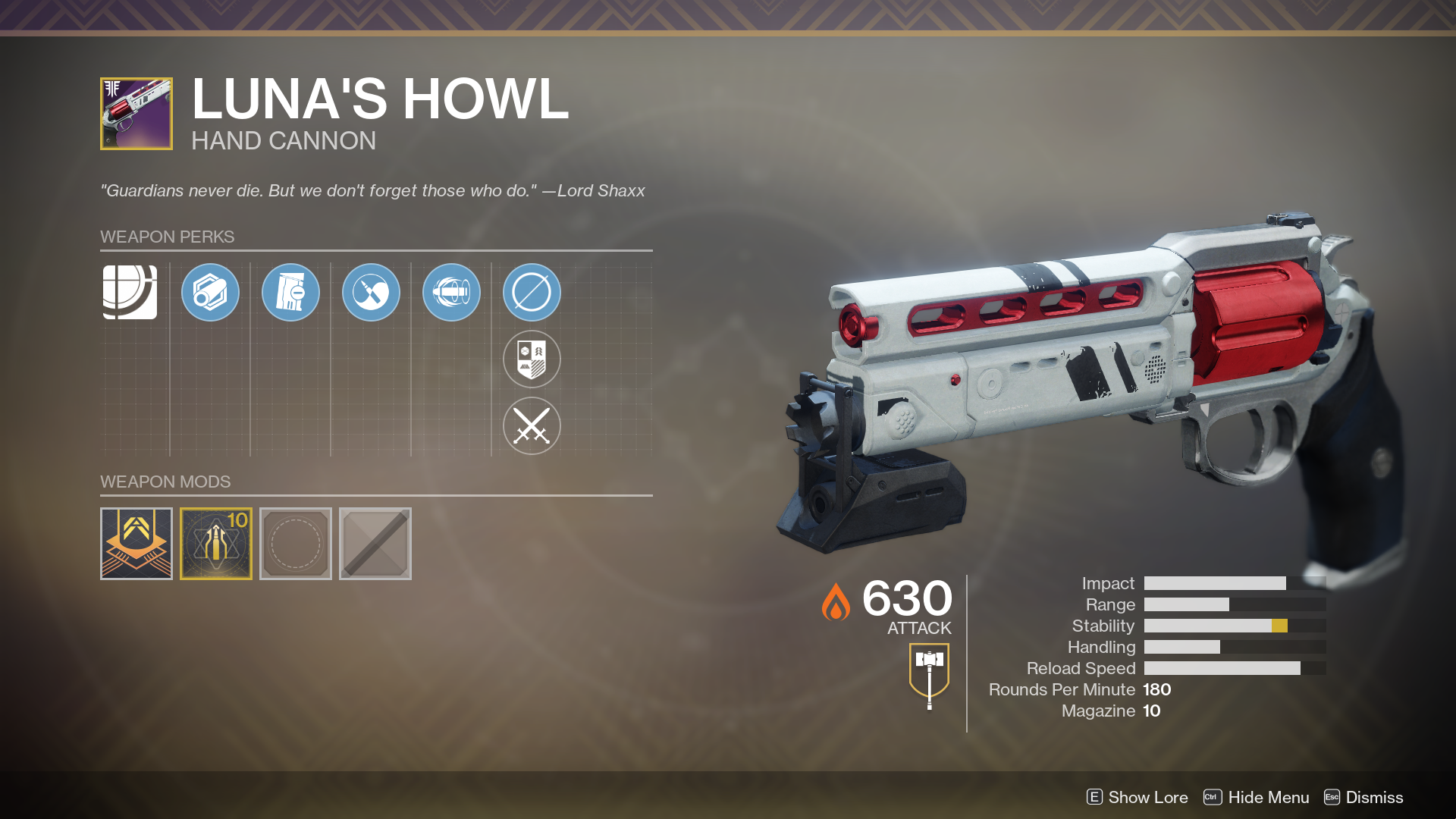 This weapon drops with curated rolls.
Lord Shaxx in the Tower will give you access to the Luna's Howl quest.
You will need to complete several tough quests in the competitive playlist to acquire the Luna's Howl. We offer both each step individually and the full questline. We also have a Glory Rank Boosting service if you have already completed the quest steps.
Quest Steps for Luna's Howl
Shock and Denial
Complete 10 matches in the Competitive Playlist.
Pain and Guilt
Defeat 150 opponents with final blows from Hand Cannon in the Competitive Playlist.
Anger and Bargaining
Defeat 200 opponents with Solar final blows in the Competitive Playlist.
Depression and Loneliness
Complete 3 Rumble matches.
The Upward Turn
Defeat 100 opponents with precision final blows from a Hand Cannon in the Competitive Playlist.
Reconstruction
Reach Glory rank "Fabled."
Just looking for a Glory points boost?
Our team at Guardian.Services are ready to help you! You can find our Glory Rank Boosting service here.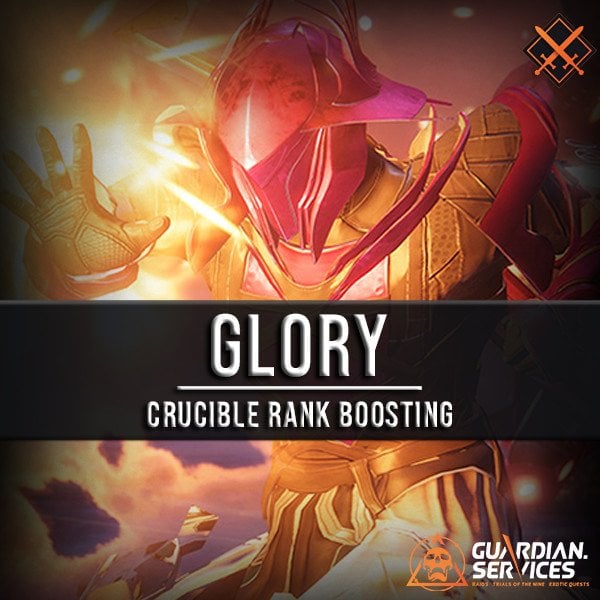 Requirements
Must have completed the Forsaken Campaign.
Must have access to the Competitive Playlist.
Order Options
This service is done by account recovery only.   Our team will sign onto your profile and complete the service. Make sure you fill out our checkout form with the necessary details.   We will send you a text and email before signing on.
Frequently Asked Questions
Click the boxes below if you have any of these questions.  If there is something you don't see feel free to use our livechat or our contact form.
I have already completed all the quest steps and only need to reach "Fabled" rank?
Do I need the DLC?
You must have completed the Forsaken DLC for this service.  We have the DLC licenses on our platforms if you gameshare with a friend for yours.
How long does this service take to complete?
This service is a long one for most steps and is hard to put a completion time on.
If I order an account recovery how will I know when you are signing on?
We always contact the customer via text/email before signing onto your account, and then again once finished.  This is why we strongly advise including your phone number before purchasing so that we can communicate with you easier.
Do I require any specific weapons or armor?
No, we will use an item manager to view what is available to use.
If I order an account recovery how do I know you won't mess with my account?
If you have any questions or concerns about this service please use our contact form or contact our live chat.