Description
Green With Envy

Questline
Season 9 is here and with it comes new Questlines!
Start by acquiring your Season 9: Green With Envy Questline at the Drifter! There are two steps to this Quest, Tear It Up and Show Off.
Tear It Up: Defeat combatants in Gambit, earn Infamy, and deposit Motes as a team. Fireteam members contribute progress toward combatants defeated and Motes banked. Wielding auras from Reaper and Collector sets, respectively, grants the most efficient progress.
Show Off: Defeat combatants, earn Infamy, and defeat Guardians in Gambit during Season 9.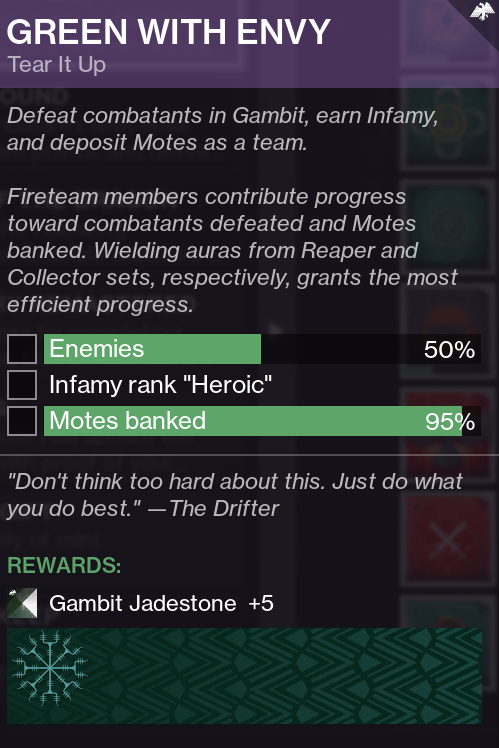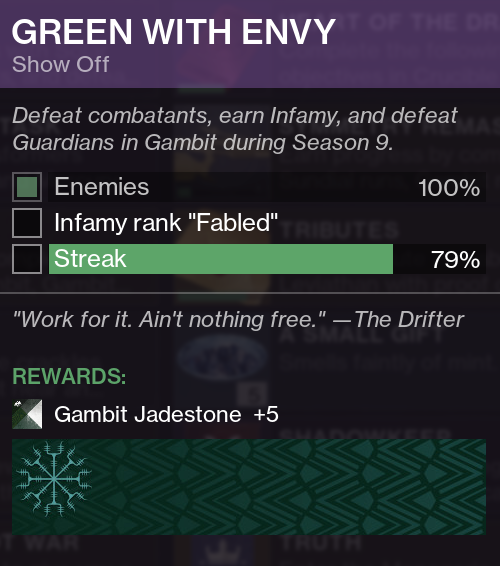 Team Player Emblem

Gambit Jadestone

Requirements
Must be of 750+ Power Level
Must have the Green With Envy quest
Must have the Season Pass
Order Options
This service is done by account recovery only.   Our team will sign onto your profile and complete the service. Make sure you fill out our checkout form with the necessary details.   We will send you a text and email before signing on.
Frequently Asked Questions
Click the boxes below if you have any of these questions.  If there is something you don't see, feel free to use our livechat or use our contact form.
If I order an account recovery how will I know when you are signing on?
We always contact the customer via text/email before signing onto your account, and then again once finished.  This is why we strongly advise including your phone number before purchasing so that we can communicate with you easier.
Do I require any specific weapons or armor?
No, we will use an item manager to view what is available to use.
If I order an account recovery how do I know you won't mess with my account?