Description
Escalation Protocol
Activity Completion
The Escalation Protocol is a horde mode event introduced in the Warmind expansion.  Fight through seven waves of enemies to earn unique weapons and armor.   Guardian.Services is here to provide pain free Escalation Protocol completions.  Account recovery and play with options are available.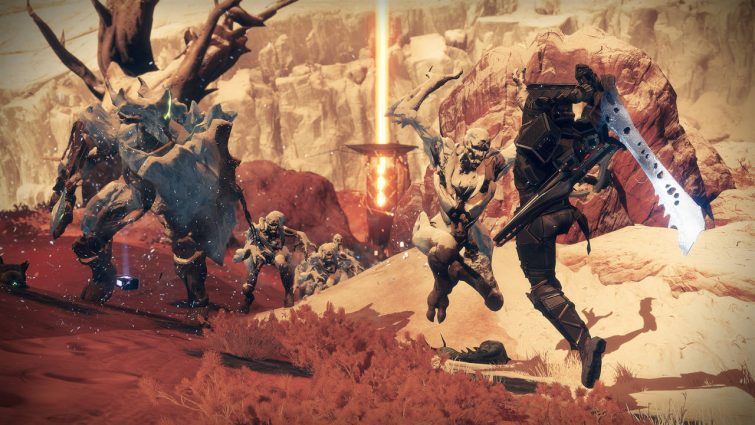 Activate Escalation Emblem
Tracks Escalation Protocol Activity Completions

GENOTYPENULL-ZERO
Shaders

Mars Tokens
Redeem for additional rewards

Escalation Protocol Armor
Rewards 1 Piece in this order: Class Item, Boots, Arms, Chest, Helmet
View the full sets here
Escalation Protocol Weapons – These MAY drop from the wave 7 boss but are not guaranteed.
The weapon drops are on a weekly cycle.  Check below to see if the weapon you need is dropping this week.
IKELOS_SG_v1.0.1

THIS WEEK!
Shotgun

IKELOS_SMG_v1.0.1

THIS WEEK!
Submachine Gun

IKELOS_SR_v1.0.1

THIS WEEK!
Sniper Rifle

There are two options for our raid services each with different prices.  Please read the following options carefully so that you understand exactly what each service option is.
Account Recovery:  This is our cheapest option.  One of our partners signs onto your profile and completes the activity for you.  If you are ordering an account recovery please fill in your login information at checkout so that we can work on your account. We will try contacting you directly 15 minutes before we sign onto your profile by text or email so that there are no surprises when we sign on.
Carry – Quick Run: Join our team of professional partners and get the Escalation Protocol completed in no time!  If you want to experience the Escalation Protocol without spending countless hours being frustrated with your team then this option is for you.   We will give you the general instructions needed and complete the activity fast.
If you are ordering a Escalation Protocol carry – please contact us via livechat before ordering to see the status of our available partners.  We may need to schedule a time that works for all of us.
We only speak English, so please understand that while we can carry players that speak other languages we won't be able to communicate as well if you don't speak or understand English.
Frequently Asked Questions
Check the boxes below for some of our frequently asked questions.
Do I need the DLC?
No.  We have the DLC licenses on our platforms if you gameshare with a friend for yours.
How long does this service take to complete?
This service is almost always completed within 24 hrs of purchase and requires roughly 1-2 hrs.
If I order an account recovery how will I know when you are signing on?
We always contact the customer via text/email before signing onto your account, and then again once finished.  This is why we strongly advise including your phone number before purchasing so that we can communicate with you easier.
Do I require any specific weapons or armor?
No, we will use an item manager to view what is available to use.
If you are ordering a carry it also does not matter.  We can carry anyone.
If I order an account recovery how do I know you won't mess with my account?