Description
The Forsaken expansion added titles to the game, special text that is visible next to a guardians name while playing the game. These are tied to players completing a certain number of Triumphs, making titles a sign of completion and mastery over specific parts of Destiny 2. The Destinations: Red War is a Badge required to unlock the Wayfarer title.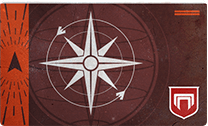 Our talented team can take your account to the next level by boosting your progress towards The Destinations: Red War Badge.  Our team takes you closer to unlocking The Destinations: Red War Badge. This will take you closer to showing off the exclusive Wayfarer title quickly and efficiently!



The drops listed above are obtained trough rank up packages from the vendors on Nessus, IO, Titan and EDZ. To unlock the Destinations: Red War Badge 1 character need to acquire a full Armor Set from each specific planet.
Requirements
Must have completed

the base campaign.

Must have access

to the specific planet the service is purchased for.
Order Options
This service is done by account recovery only. Our team will sign onto your profile and complete the service. Make sure you fill out our checkout form with the necessary details. We will send you a text and email before signing on.
Interested in the Wayfarer Triumph Seal?
Frequently Asked Questions
Click the boxes below if you have any of these questions.  If there is something you don't see, feel free to use our livechat or use our contact form.
Will this get me the Destinations: Red War Badge?
Eventually yes, you need to collect a full Armor Set for 1 character for all planets.
Will this get me a full Planetary Armor Set?
No, we only offer material farming.  This will boost  your progress towards acquiring the Armor Sets required to earn the Destinations: Red War Badge.
Do I need the DLC?
You must have the DLC for the specific planet this service is ordered for.  We have the DLC licenses on our platforms if you gameshare with a friend for yours.
If I order an account recovery how will I know when you are signing on?
We always contact the customer via text/email before signing onto your account, and then again once finished.  This is why we strongly advise including your phone number before purchasing so that we can communicate with you easier.
Do I require any specific weapons or armor?
No, we will use an item manager to view what is available to use.
If I order an account recovery how do I know you won't mess with my account?
If you have any questions or concerns about this service please use our contact form or contact our live chat.