Description
Nightfall
Strike Completion
The Nightfall is a guaranteed way to raise your power level each week.  Guardian Services is proud to offer the same quality service to all our customers for Destiny 2.   We currently only offer nightfall without scoring.
If you are looking to raise your character's power level then this is the service for you!
Each Nightfall Strike now has its own unique Weapon, Sparrow, Ghost, or Ship that can drop in both Normal and Prestige Mode.   These drops are incredibly rare and at this time we do not yet know if having a high score increases your chances of getting the drop.  
Strike Specific Gear are not guaranteed rewards.
Time Trial
By completing all 14 available Nightfalls within a certain time limit you can receive the emblem "After the Nightfall". The actual time limit for each of the Nightfalls is not official or confirmed by Bungie but from what the Destiny community has found out so far it appears the time limits below would be enough to unlock this secret emblem.

Garden World 9:00
Exodus Crash 8:00
Lake of Shadows 8:00
Savathun's Song 8:00
Strange Terrain 8:00
Arms Dealer 8:00
Inverted Spire 8:00
Pyramidion 8:00
Tree of Probabilities 8:00
Will of the Thousands 9:00
Insight Terminus 8:00
Hollowed Lair 8:00
Warden of Nothing 9:00
The Corrupted 8:00
Requirements
Please make sure you meet our power level requirements listed below before ordering.
Must have completed the Zavala Milestone: Complete two strikes and have the Nightfall unlocked
800 Power Level required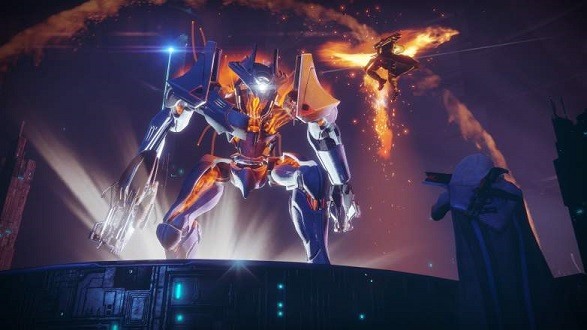 Order Options
There are two options for our Nightfall service.  Please read the following options carefully so that you understand exactly what the service is.
Account Recovery:  This is our cheapest option.  One of our partners signs onto your profile and completes the activity for you.  If ordering an account recovery please fill in your login information at checkout so that we can work on your account. We will try contacting you directly 15 minutes before we sign onto your profile by text or email.
Carry: Join our team of professional partners to complete the Nightfall.   If you are ordering a carry, please contact us via livechat before ordering to see the status of our available partners.
We only speak English, so please understand that while we can carry players that speak other languages we won't be able to communicate as well if you don't speak or understand English.
Frequently Asked Questions
Click the boxes below if you have any of these questions.  If there is something you don't see, feel free to use our livechat or use our contact form.
Do I need the DLC?
No, you do not need to own the DLC for this service.
What level do I need to be?
Must have access to the Nightfall and be of 800+ Power Level.
Do you offer weapon drop farming?
No, but feel free to place multiple orders.
If I order an account recovery how will I know when you are signing on?
We always contact the customer via text/email before signing onto your account, and then again once finished.  This is why we strongly advise including your phone number before purchasing so that we can communicate with you easier.
How long does this service take to complete?
Most services are completed within 24 hours.
If I order an account recovery how do I know you won't mess with my account?