Description
Bad Juju
Weapon Questline
Bad Juju is a Pulse Rifle that is acquired in the Tribute Hall
This weapon is obtained by completing a questline starting in the Tribute Hall.  Bad Juju deals KINETIC damage and is equippable in the kinetic weapon slot.  If you need assistance completing this questline the Guardian.Services team is here to help!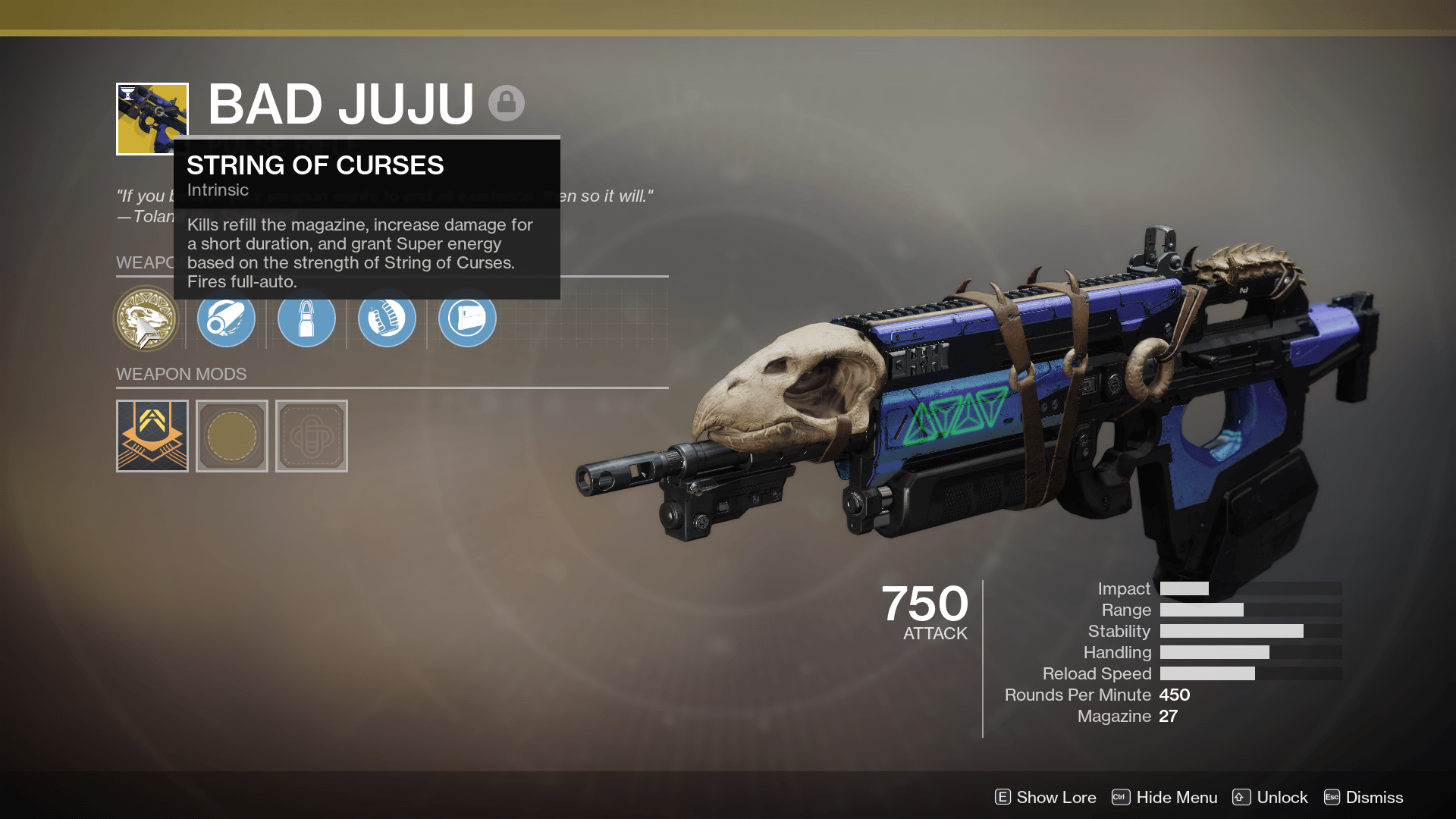 Unlocking the Tribute Hall
First you have to travel to Nessus and talk to Werner on the Imperial Barge. Purchase the chest next to Werner for access to the tribute hall. Once you completed your first bounty from Calus Visage you can now give tribute.
Getting the Bad Juju
Once you unlocked the tribute hall you can now give tribute. To receive tributes you need to complete certain Tribute Hall Triumphs or by purchasing them from the Calus Visage. Once you turned in 18 tributes you get access to The Other Side mission and after completing that you will receive the Bad Juju Pulse Rifle.
Catalyst
Once you receive Bad Juju you will be able to unlock the catalyst by giving 45 tributes in total.
Requirements
Must be of 650+ Power Level
Order Options
This service is done by account recovery only.   Our team will sign onto your profile and complete the service. Make sure you fill out our checkout form with the necessary details.   We will send you a text and email before signing on.
Frequently Asked Questions
Click the boxes below if you have any of these questions.  If there is something you don't see, feel free to use our livechat or use our contact form.
Do I need the DLC?
Yes. You need to have the Forsaken DLC and the Annual Pass.
If I order an account recovery how will I know when you are signing on?
We always contact the customer via text/email before signing onto your account, and then again once finished.  This is why we strongly advise including your phone number before purchasing so that we can communicate with you easier.
Do I require any specific weapons or armor?
No, we will use an item manager to view what is available to use.
If I order an account recovery how do I know you won't mess with my account?